Posted by Michael Hubbard
On February 29, 2016
0 Comments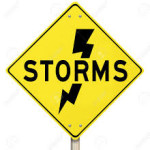 Seriously? One month into opening the horse barn and I'm talking about another emergency preparation for horse owners? I had heard the stories about how difficult running your own horse barn was – but most of what I had heard about were the difficult boarders (none at our barn of course!), not preparing for every situation under the sun, or in this case, the dark clouds. That said – the current threat of tornado's this past week was just another great reminder of how being prepared helps to ease everyone's minds, horses and horse owners alike! So here's a quick rundown of ideas we had implemented and come across during this week's storm.
Securing the Horse Barn. Our forecast was sustained winds of 25 MPH with gusts in the 30's and 40's, and of course, the real concern was the flat line winds and threat of tornado's coming through. So with high winds, we focused a lot on securing anything in and around the barn that could be tossed about. We moved all of the rocking chairs into an empty stall in the barn, we strapped down and secured any loose wood or materials outdoors, we moved the horse trailer under the covered arena – more so to protect it from falling trees than being tossed around, but essentially anything that was outside the barn, we moved it to an indoor or secured location to prevent it from being tossed through a window. Once everything outside was secured, we made sure the barn doors and everything inside was secured. We have safety latches on the inside of our doors that allow us to pull the big barn doors tight to prevent wind gusts from flapping them or ripping them clear off.
Prepping materials. Just like we did with the ice storm, we prepared for power outages by doing things like filling all of the extra water buckets, making sure we had some flashlights on hand, the generator gassed up and secured in the shed. But this time we moved a couple extra loads of shavings and hay into the barn (normally not stored in the barn) anticipating heavy rain. This was more for convenience than safety. Finally – we have emergency fire halters hanging outside, but in the event of a tornado, my fear was that they'd be scattered about when needed. Because our barn isn't full yet – I had more than needed to leave some in the normal locations, but the rest I threw in car so they were with me at all times.
Calming of the Horses. The best part about having all of the horses in the barn is that they naturally calm themselves when they're all together, so as long as we started preparations early, there was no need to infuse excitement into the air. It did get warm with everything locked down and temps rising into the 70's, so we had the ceiling fans going, but besides that, we provided extra hay in a slow feeder (nibble net bags are great!), a little extra drop on the ground, kept the water topped off all day, had the music on to hopefully drown out some of the thunder and rain on the metal roof, and the lights dimmed down. I don't know if the lights mattered, but it made it more relaxing for me.
Marking the Horses. So a while back my wife ordered some name tags that have our phone numbers on them, and are made to be braided into the horses tail or mane. They were designed for when your shipping your horse, should there be an accident and they get out –you now have some ID on them. As not everyone has one of these, what we ended up doing was writing the owners phone number on the horses hoof, and then made sure that the owners knew that if there was a bad storm that the horses got free (highly unlikely with secured barn, paddocks and then a perimeter fence and gate on the property – but again, trying to expect the unexpected), they'd be required to produce some form of ID to claim their horse should animal control be the ones that find them. We keep an updated photo of the horse and owner on a Google Cloud Drive as well as a copy of the most recent coggins report.
What we are going to invest in prior to the next storm are those Tile apps. If you're not familiar, they're great if you lose your keys or something, frequently, but we'd like to braid them into the horses mane or tail. What they are is small GPS devices. If they're within range of your cell phone, they'll map out the location from you. If they're out of range, they're actually built on a social network so that if someone else is using the Tile, the signal will ping off of their phone and report back to yours with the location… And just like that – you can now drive to the location of your lost horse! They are only about $20, and you get a discount if you buy 5 or more, so it's a nice investment into peace of mind that we'll be making!
Identify your Safest Point. Just like they tell you on the news, find a place in a secure shelter, the lowest part of the building, in a central room away from windows. Ours happens to be the bathroom in the barn as it's located under the stairwell – but it's a nice bathroom with a bench to sit on should you need to bunker down with more than one person in the bathroom.
Networking with Horse Friends. Our barn is relatively close to the city – only 30 miles from downtown Raleigh, and 5 miles from Clayton – but we're still pretty much in the country. We have some neighbors that are horse people, and we have a few friends that are horse people, so just pinging each of them prior to the storm and finding out if they're available to help round up some horses if needed, and vice versa. Simple communication prior to the storm so there isn't panic after the storm. I also threw a couple of the extra emergency halters we had in the back of my Jeep just in case I got a call needing a quick hand.
After the storm… After the storm blew through, we regrouped at the barn and toured the pastures and the perimeter fences. A few downed branches, but all of the fencing was intact. Still, we needed to make sure that for turn out the next day there were no additional debris now in the pastures that could be a safety hazard. A little extra hay for the night, and normal cleaning procedures, and we survived another storm without incident!
Some other tips we heard being passed around:
• Turn off the power at the breaker box to prevent a potential fire in the event of the unthinkable.
• Break-away halters to help with catching loose horses after the fact. Again, very important they're break away so the horses don't get hooked up somewhere.
• Break-away fly mask – as the winds kick up, so do the dust and debris, and the fly mask had several positive and negative comments around it – so I recommend doing your research first.
• If your barn is older and maybe not as structurally sound, I think most horse people believe it's best to leave the horses in the pasture as it will give them a better chance of survival than being locked in an old barn. This might be true with a new barn as well – but I'm hoping I never have to find out.