It's important to have a safe riding facility, but truly the Horse Trainers are the face of your facility!  Blue Skies runs a Show Barn complete with student training from beginner to advanced to training your horse for the Hunter Jumper circuit.  All of our trainers are insured and keep up on the latest safety trends and training techniques.  While I know we're biased in this statement, but we truly believe we have some of the best trainers in the industry right here at Blue Skies Stables!  Below are the bios of our trainers so you can judge for yourself:
Loren Hazard-Daniel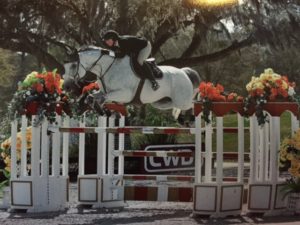 As Blue Skies has grown, some of our more advanced riders that are looking to show outside of the area on the more competitive A and AA-rated circuit have partnered with Loren Hazard-Daniel.  Loren works closely with the Blue Skies team to provide an additional showing opportunity right here at Blue Skies!
Loren started riding at the age of four with her mother, Amy Hazard (owner of Otter Creek Farm). She began her extensive show career at age 6. She earned ribbons at pony finals in 1999, won the Bryan Jones equitation finals in 2009, and had numerous year end championships in between.
Loren received a B.A. In foreign language at the University of North Carolina at Wilmington and during her summers she interned and competed in Munster, Germany with Bernd Shulze-Topphoff. While abroad she qualified a 7-year-old investment horse for the Bundeschampionate Finals in Aachen for the 1.35-meter section. She and her mother have used this trusted connection to import several investment horses for clients that are proven winners at top shows.
Beginning in 2011, she has annually competed and worked at the Winter Equestrian Festival in Wellington, Florida and HITS in Ocala, Florida. She has trained with and worked for top respected names such as Val Renihan, Harold Chopping, George Morris, Joe Fargis, and Bernie Traurig. Loren also enjoyed working for Havens Schatt for several shows while traveling with her jumper, including Lexington, Kentucky for the Bluegrass Festival that hosts Derby Finals and Green Incentive Finals.
Her professional career is supported by years of experience, but her personal riding career is highlighted by taking her own horse, Memphis in the Meantime all the way from 2'6″ baby green hunters to the Grand Prix ring after 9 years of training. Loren has been featured in instructional videos on Equestrian Coach.com and continues her education by taking and teaching clinics and surrounding herself with the top competitors in the industry. Her mother, Amy Hazard and her run Otter Creek Farm, in Macclesfield, NC together and produce top horses and riders that are successful at nationally ranked shows up and down the east coast.
Katie Hines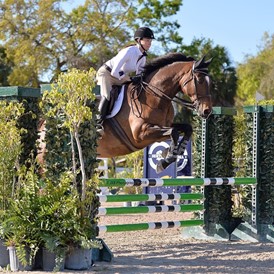 Katie Hines grew up in Wilmington, NC training with Margaret Overby and Medhi Kazemi at Old Homestead Farm. She trained and showed intensively with them, traveling to several NCHJA and SCHJA "C" and "AA" shows.
Katie attended UNCW, majoring in business administration with a focus in finance. While at university she competed on the IHSA team, as well as NCHJA shows. In addition to competing in IHSA and NCHJA shows she began teaching several private students.
After graduating in just three years, Katie expanded her horizons by accepting an internship in Naples, FL with the Cassesse family, training and competing on several of their young horses at the Winter Equestrian Festival (WEF), HITS Ocala, and the Venice Equestrian Tour (VET). In Naples Katie also had a full schedule of teaching eight lessons per day. After returning to Wilmington, Katie worked for Amy Nolan, doing training rides and horse care on her show horses, and taught beginner through advanced lessons at Champions Corner with Shona Pascoe. Katie made the move to Chapel Hill two years ago and was the Assistant Trainer/Rider at Across Town Farm for the last two years, teaching, riding and showing sale horses and enjoyed clinics with Joe Fargis twice.
Katie and her pony Maggie May are excited to join the Blue Skies team and look forward to meeting all of the students!