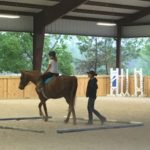 Welcome to the Blue Skies lesson program!  As a professional Hunter/Jumper show barn, our horse riding lessons are developed for the competitive student so that they develop all of the skills they'll need to compete successfully on our show teams.  Whether you've never ridden before, or you have an experienced show record, we have a lesson path to improve your showing experience!
Actual show lesson sessions run about one hour – with each lesson varying depending on the success achieved.  Typically, the first 15 minutes of that time slot is designed for the rider and the horse to warm up without the trainers involvement,  followed by 45 minutes of solid riding and instruction time.  At the end of your lesson, the next rider will enter the ring and start their 15 minute warm up, while you receive an additional 15 minutes of cool down and instructional review from your trainer as well as home work assignments.  Please note – we are of the belief though that a lesson should not go 45 minutes just to go 45 minutes.  The goal of each lesson is to successfully achieve something new, and once that goal has been achieved – we want to end the lesson on a positive note for the rider and the horse.  So these numbers are just planning times for you – but the trainer will ultimately decide the length of time needed to be successful.
Lesson horses are available for students working on their flat and foundations, or jumping under 2 feet.  If you are an advanced rider and looking to jump higher, we will start you with a trainer to evaluate your riding style and make recommendations for a suitable lease horse for your needs.   We do not jump our lesson horses over 2 feet though.
FAQ's about Show Lessons:
Do you take beginning students?
Absolutely – we love beginning students, and as teams are built from beginning to advanced riders, the beginning student is just as important as the advanced!  Depending on when you join, you should be attending your first show in the first 6 months.  Just like any other sport, practice can only show you so much about the sport, you need to feel the thrill of competition in a real live game to know if this is a sport for you!
What if I don't want to Show?
There are plenty of barns in the area that will take you on in a lesson program, or there are trail ride barns as well – but we are a show barn, so we are not a good fit for you.  But no worries – we have mapped out all of the horse barns in the Triangle here so you can find a better fit!
How often should I lesson?
Like anything in life, you get out of things what you put into them.  We have a minimum commitment of one lesson per week, but we encourage you to lesson as frequently as you can.  Please note, our horses are NEVER worked more than once a day, and always get rest days – so if you are using one of our horses, please know we have limited space and priority goes to students who are showing with the most frequency.
How often do you Show?
We have multiple horse trainers, and as such, there is an opportunity to show every month if you're interested (and sometimes more).  We require riders to show a minimum of 4x per year.
What Shows do you attend?
We have two teams, one team is the IEA team which is a great way to learn how shows work, but not have to own or lease a horse, and also keep your costs lower.   We also show locally at C shows and regionally at A shows – in both cases, you would need to own your own horse or lease a horse.  Local C shows are generally less expensive than the A shows – but when the time is right, we can walk you through what all goes into those shows.
If you are interested in getting started, or just coming out for a tour, please call us at 512-222-7892 or via email at [email protected] and we typically respond within 24 hours.  Below is information on pricing and other useful links.
Horse Training and Horse Riding Pricing:
Beginning Rider lessons start at $60 per session
Advanced Rider lessons, or show team rider lessons start at $70 per session
Horse Training Pricing:  $50 per session
Additional Information: